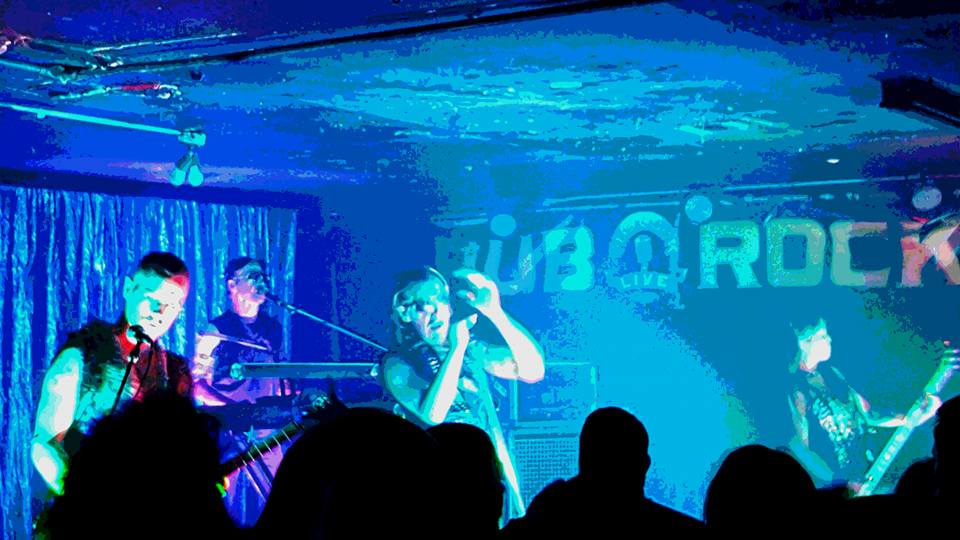 Electronic music has certainly changed over the decades. However, industrial bands like My Life With The Thrill Kill Kult prove that it can be just as dark and full of various instrumentation today as it was back when it was far more popular in the eighties and nineties, while maintaining a similar energy and fun. Their blend of electronic forms with disco, as unusual as it sounds, is something of a marvelous phenomenon when done by Thrill Kill Kult. This extraordinary concoction they brew makes for one helluva spectacular show while ensuring a rag-tag horde of a cult following for them over all these years.

Opening this show was local experimental electronic project Acid Trash. Don't be shocked if their name is recognizable as they're coming up on their five year anniversary. Unfortunately, it seems that their performances are far too few and far between, considering how their set captured the crowd. While the stage was cluttered with an assortment of electronic equipment and instruments, their sound definitely wasn't. The band brought together a harmonious amalgam of sound between the guitar, keyboards and other motley electronics. To top it off was the collision and compliment of their raucous and alluring vocals. As one singer was bobbing around with a helmet made of baby dolls, the other seductively swaggered across the stage in a dazzling dress. While their music was discordantly industrial, they seemed to effortlessly dovetail into something closer to trip-hop at times.
When My Life With The Thrill Kill Kult took the stage, it was very noticeable how stripped down the band was after seeing them almost a decade ago. There were no dancers, set design or projections, not that there was much room for any of that onstage. Despite that, the venue was pretty packed at this point and nobody seemed to notice. In fact, if anything, regardless of the fact that their disco glam stage presence was still in full effect, the core numbers in the band and intimate, on-the-level interactions with the crowd gave their performance more of an in-your-face punk aesthetic. Ringleader Groovie Mann riled the crowd up with his happening stage antics and engaging vocals while keyboardist Buzz McCoy laid down the electronics and dropped beats. Guitarist Westin Halvorson shredded hard to get the audience rockin' out. Towards the end, he donned a dog mask as he really got into it. Even bassist Mimi Star was throwing down, guiding fans to tear it up. Overall, Thrill Kill Kult put on a glorious show.
More weird shit from de'Lunula:
Cthulhu Is My Fetish
Sir Charles Barkley Is The Tom Clancy of Basketball
I Love You From The Bottom of My Liver — On Organs And Romance
Follow de'Lunula on the Tweet Machine and the Book of Faces.
---
Spread. Infect. Share.