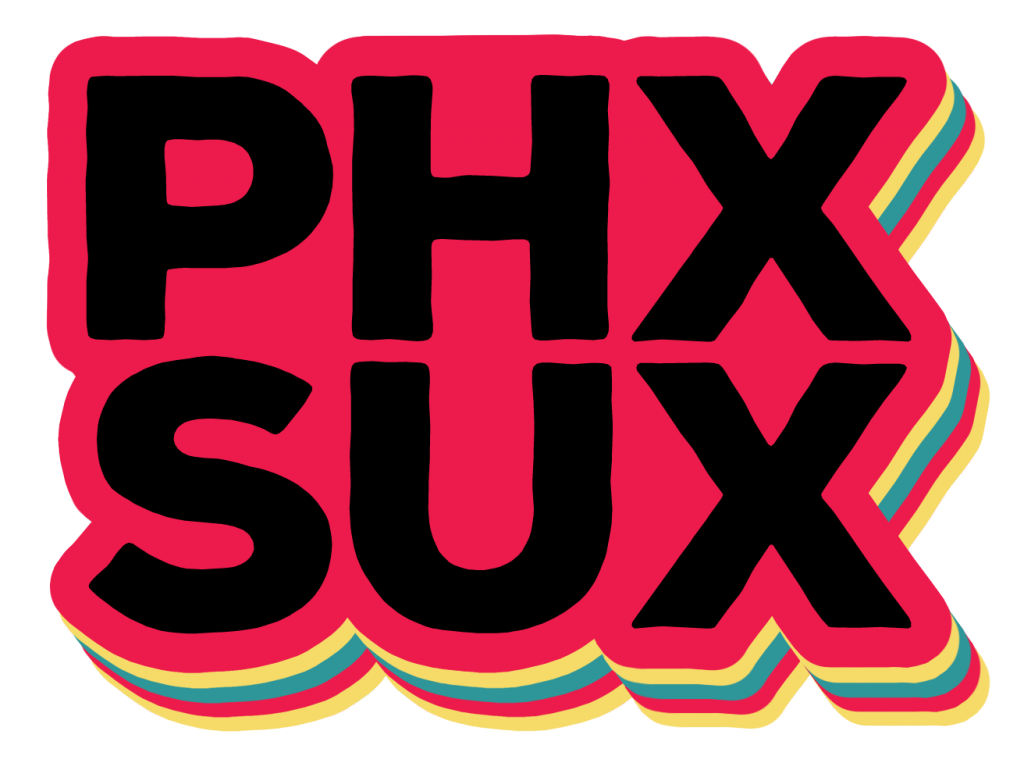 If you haven't noticed, Phoenix is a gaping concrete orifice in the middle of a scorched desert landscape that will probably be wiped out by UV rays from the sun in a few climate changing decades. Either it's a city that's fucking stupid and should not exist, or it's the cool, dystopian hell hole that only a bunch of badass biker warriors could survive in. At de'Lunula Media, we believe it's both!
That's why we're hosting PHX SUX, a lovely art exhibit at The Trunk Space — the same kickass venue where we've hosted our weirdo video marathonsde'Lunula Screeners 1-3… BTW, we're showing de'Lunula Screeners 4 This One Is Just Called Number Four on opening night! This one will be hosted by none other than Andy Warpigs. In fact, PHX SUX is the VERY LAST art exhibit at The Trunk Space because The Trunk Space is closing. Maybe forever. Oh no! Why do venue closures have to keep happening in this town? It really does suck!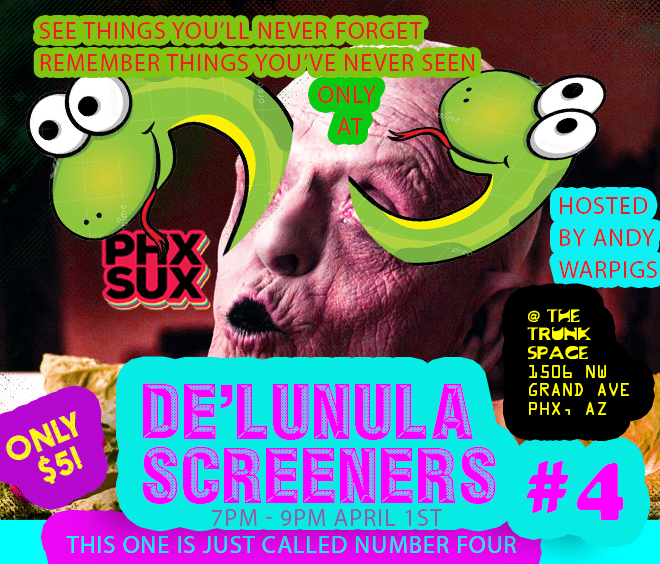 Well, chin up. It's not all bad. And if you've got art that's positive, negative or stone-cold neutral that somehow celebrates living in the Valley of the Spun, then we'd like to see it. This includes weirdo videos you think we'd like to show in de'Lunula Screeners 4. Send us an email at delunula @ gmail dot com with a JPG of your art. It should probably be said you must be local to Phoenix or surrounding cities.
Deadline is March 28th! We know that's not much time, but too bad! That's the way thing work in this town. The show will run for the month of April. We'll be having the artist reception, followed by De'Lunula Screeners #4 on Friday, April First. No joke.
More art and weird shit from de'Lunula:
Cthulhu Is My Fetish
Statement of the Kennel Killer
Behold Arizona Artist Dean Chetwynd's Apocalyptic Visions
Sir Charles Barkley Is The Tom Clancy of Basketball
Follow de'Lunula on the Tweet Machine and the Book of Faces.
---
Spread. Infect. Share.