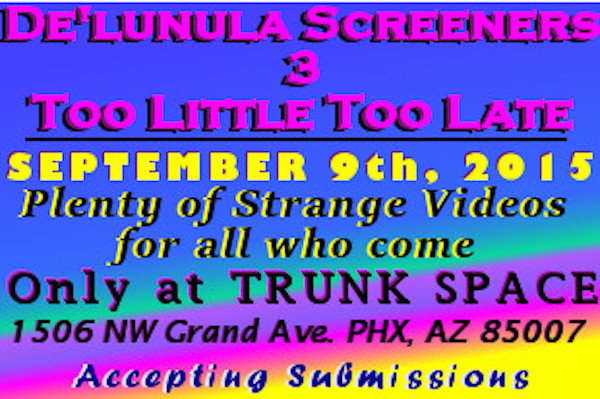 Dunno if anyone told you this, but De'Lunula has been hosting a fairly-popular weirdo video screening event at Trunk Space every so often. It's two whole hours of video to rot your brain and scar you for life. See an example below. De'Lunula Screeners 2: Revenge Is Unnecessary was way more fucking bizarre than the first one, which is saying something.
Anyway, we're doing it again. De'Lunula Screeners 3: Too Little, Too Late, is September 9 2015 at Trunk Space. This season's selections will be curated by Malena Barnhart. Malena teaches at Mesa Community College and has shown some really thought-provoking, weird stuff with us before, so it's going to make your head spin. You can check out her website here.
This is the kind of shit we show at De'Lunula Screeners.
We're looking for material. What kind of material? Well, if it's weird, video art then it qualifies. It can be serious, or silly, or graphic, or live-action, or whatever you want, as long as it's different.
Submissions can be shot over to delunula at gmail.com but submissions will close August 15, 2015. So fucking hurry up! Here's the Book of Faces event if you didn't catch that before.
Follow de'Lunula on the Tweet Machine and the Book of Faces.
---
Spread. Infect. Share.