de'Lunula Media, in partnership with Related Records, are thrilled to present our latest visual offering: Fathers Day's most demented song yet, 'Disney World.' Filmed at the Trunk Space just months before its closure, the video features the Dads destroying a bowling alley, lighting off fireworks, and smashing faces in cake. It stars the ever-talented Kevin Patterson as Uncle Sammy.
Fathers Day are a thrash punk band with one goal in mind: "make Rock N Roll scary again." They accomplish this with songs like "My Daughter's A Slut" and "My Son Went To Art School" (which are obv. satirical). The thought alone is making me uncomfortable and itchy.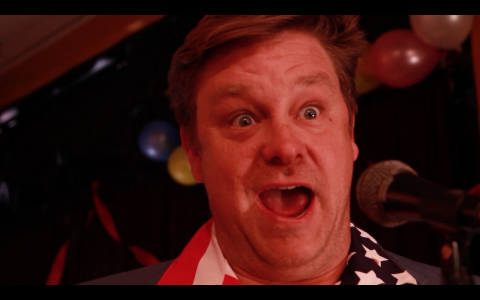 Kevin Patterson
'Disney World' was directed & edited by Troy Farah, who realized months afterward that setting fireworks off indoors was probably a bad idea, especially after The Rebel Lounge almost burned down due to similar pyrotechnics. Whatever. The video is monstrous—at 9:00 long, it's way too ridiculous for a normal music video, especially with a song only featuring two lyrics. See how long you can last watching this video. We dare you.
Find Fathers Day on the Book of Faces here and go download their music here. You can learn more about Related Records here.
More music videos by de'Lunula Media
Mallevs — "Psychic Lines"
Andy Warpigs — "Coke N Smokes"
No Volcano — "New York Drugstore"
Follow de'Lunula on the Tweet Machine and the Book of Faces.
---
Spread. Infect. Share.