I forgot how I heard about The Chieftones. I think the band may have been in one of the video installations at the Musical Instrument Museum, or perhaps I just stumbled upon them in a "don't stop downloading until your hands start to hurt" haze. Regardless of my horrible memory, I came into possession of their 1966 7″ Do Lord, which features the song, "I Shouldn't Have Did What I Done" as the B-side:
The Chieftones were "Canada's All-Indian Band." There's really no arguing that; everyone in the band was a member of the Tsimshian Indian Nation of Northwest British Columbia. In a biography about the Wisconsin music scene (this is relevant because the band eventually relocated to the tiny town of Boaz, WI), Gary Myers wrote that two of the members met in an Edmonton Indian School, where they discovered that they were long-separated brothers. The band formed shortly thereafter. I can't speak to the veracity of that claim, but if it's true, I'm glad they were able to find some type of solace and inspiration in the entirely wretched and awful institution of the Indian School. Seriously, fuck those places.
In late 2014, I decided to look up more about The Chieftones. In the early 70s, the band shifted their sound to be more country than rock, and I wanted to see if there were any early recordings I missed from their wild garage days. In my search, I came across a pre-order page for a compilation called Native North America, being released in October from Light in the Attic Records. The record promised aboriginal folk, rock, and country music (1966-1985) from Native musicians.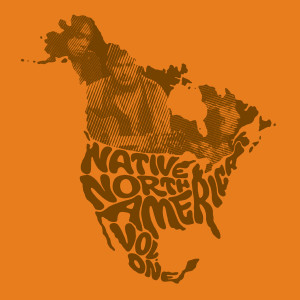 It's really, really difficult to find collections of older music made by Native musicians that aren't just 14 flute songs burned onto a CD by white people and sold for their profit at the Grand Canyon gift shop. And let's be real, a lot of that music (just like their art or their attire) is just white people mimicking what they believe to be Native culture. Their actual music is appropriated, commodified, or otherwise completely ignored by the rest of the world, and it makes me mad. It should make you mad too.
That is why Native North America makes me happy. These recordings are, as Light in the Attic puts it, "largely unheard, criminally undocumented, but at their core, utterly revolutionary." This album took 15 years to curate. Fifteen. Years. There are 34 tracks. Kevin "Sipreano" Howes, the man behind this project, researched, traveled, investigated, interviewed, and scoured for 15 years, uncovering an average of 2.3 songs a year to bring to the surface and share with the world. Without this album, the majority of this music and the multifaceted talents behind it would've been… let's face it — extinct.
And it's good! It's really good! Just like the musicians, the tracks are incredibly diverse, coming from different tribes from completely opposite corners of Canada – Arctic garage rock from northern Quebec, Leonard Cohen vibes from British Columbia, melancholy folk from Nova Scotia. (Another volume of Native North America is currently in production and will focus on the Lower 48 and Mexico!)
There's so much I could say about the sense of pain, struggle, strife, joy, spirituality, and community that has been poured into these songs, but I think I'll let the music speak for itself here:
Whoever made this song's image "Lutheran Television" is both horrible and funny at the same time.
Speaking of struggles — next week I'll be sharing the best band to ever come out of Indonesia, and how these four girls went through some crazy stuff to bring rock 'n roll to a country held down by an oppressive and corrupt authoritarian regime!
-M
Previously on On Blast:
The Tucson '60s Sound 1959-1968
Thai Pop Spectacular
Maestro Ilaiyaraaja and the Electronic Pop Sound of Kollywood 1977-1983
Maggie Spear is a good-for-nothin' 22-year-old with an obsessive personality and a deliberately non-obsessive lifestyle. If you wanna send her some cool music and talk about things that you can't talk about with anyone else, shoot her an email at maggiemariespear at  gmail.com. Twitter is too much work.
Follow de'Lunula on the Tweet Machine and the Book of Faces.
---
Spread. Infect. Share.