[et_pb_section][et_pb_row][et_pb_column type="4_4″][et_pb_text admin_label="Text"]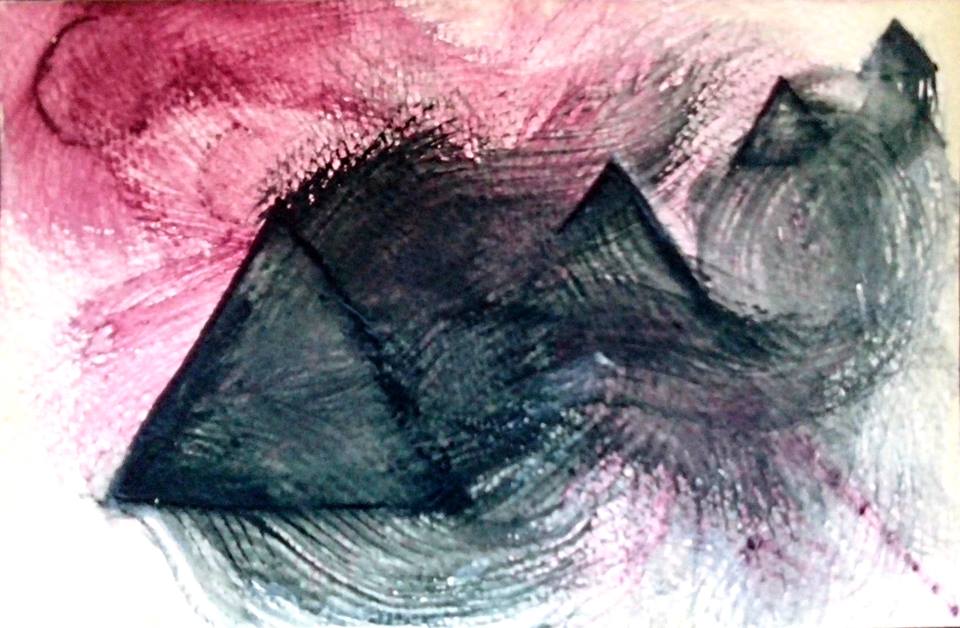 Painting by the author.
7/3/07
I must remember:
This is my fault.
I wanted:
sex tongues limbs love
I received:
sex pain deceit loss
Yet I must remember:
This is my fault.
9/10/07
Only you:
You who are many,
who will be many more,
can truly fix me,
and break me again.
1/7/08
I wish you nothing less
than happiness.
I wish you nothing less
than joy.
I wish you nothing less
than a fairy tale.
But I wish you
nothing more.
3/6/08
I want so badly
to write,
to release,
to forgive.
I can't.
12/15/08
When you leave me,
no matter how temporary,
I always feel less
full
than I did before
you arrived.
So tell me,
what small part of me
you stole this
time?
1/20/09
You're not mine.
Were you ever?
I love you.
Still.
Don't you know?
You should fix
what you break.
1/21/09
I should have known
when I didn't hear from you
for two weeks.
I should have known
when you left right after you
came.
I should have known
when you said God,
you missed this,
not me.
6/16/09
Connected
at the lips,
nose-nipped to
fingertips
on hips gripped.
Stop, please
stop. Please.
Stop.
10/11/13
When I'm down
I have no future.
I can't see past
rightthisverymomentand
GODIWANTTODIE.
Nothing is attainable.
I am so far below
I'll never see sun again.
Do I want to?
11/10/13
When I screamed,
it became real.
Terror, helplessness, violation
overwhelmed me, drunk.
That moment would never end.
Like a Journey song it would go
on and on AND on AND ON AND ONANDONANDON.
Kill me please,
I thought I screamed, but
I was paralyzed.
Broken.
Follow de'Lunula on the Tweet Machine and the Book of Faces.
---
Spread. Infect. Share.
[/et_pb_text][/et_pb_column][/et_pb_row][/et_pb_section]