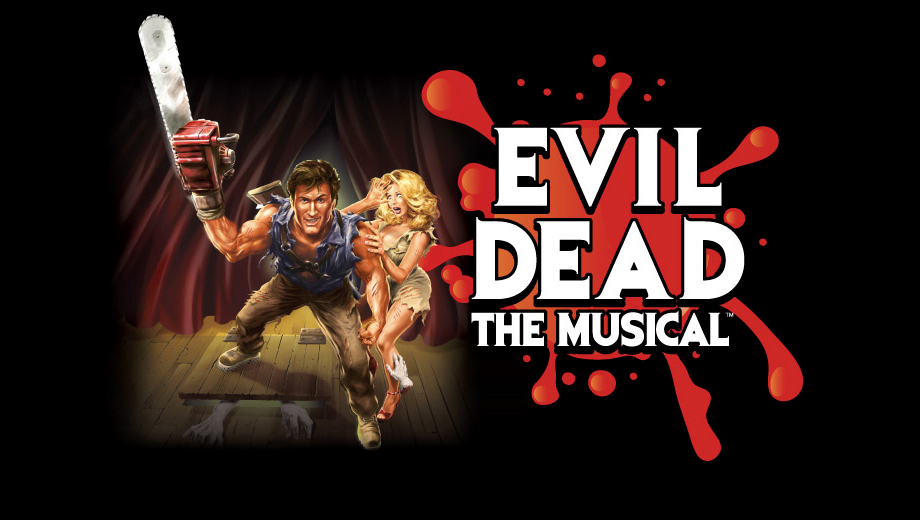 When you think of a stage adaption of The Evil Dead, especially a musical version, it might not exactly brighten your dark, twisted soul if you're a die-hard fan of the trilogy. At the same time, if you're nerdy enough to like B-rated cult horror, you might greatly appreciate the in-your-face cheesy, hilarious gore that could be presented onstage.
That's just what was accomplished in Starvox Entertainment's take on The Evil Dead, throwing back to, not only the story, but the genre of campy, cabin set slashers enough to blend the lines between an original story and keeping true to The Evil Dead plot.
The tale kicks off with your typical teens/young adults driving through the woods on a delightful, sunny day in cutesy, cartoonish fashion while they hilariously splatter a happy, little rabbit. This pretty much sets the precedent of the black humor we should expect from this throwback to late '70s/early '80s horror.
Once I really got to see the character's personalities, I noticed that director Christopher Bond and his team didn't seem to make Ash's character a straight up knock-off of Bruce Campbell, at least initially, which I could certainly appreciate. That's a big chin to fill. Instead, actor Trent Mills took on more of the general group leader you see in this genre, which seemed to give him more to work with. While he did a good job of this, it was his best friend Scotty and even his sister Cheryl, played by Alexander Braatz and Saphire Demitro, that stole the show.
As well, the later addition of Jake, performed by Matt Willis, brought even more goofball antics to the stage. Merritt Crews, while only having a short amount of stage time to perform as the whimsically ditzy blonde Shelly, threw me for a loop as she bounced over to the role of the coy yet sultry intellectual Annie.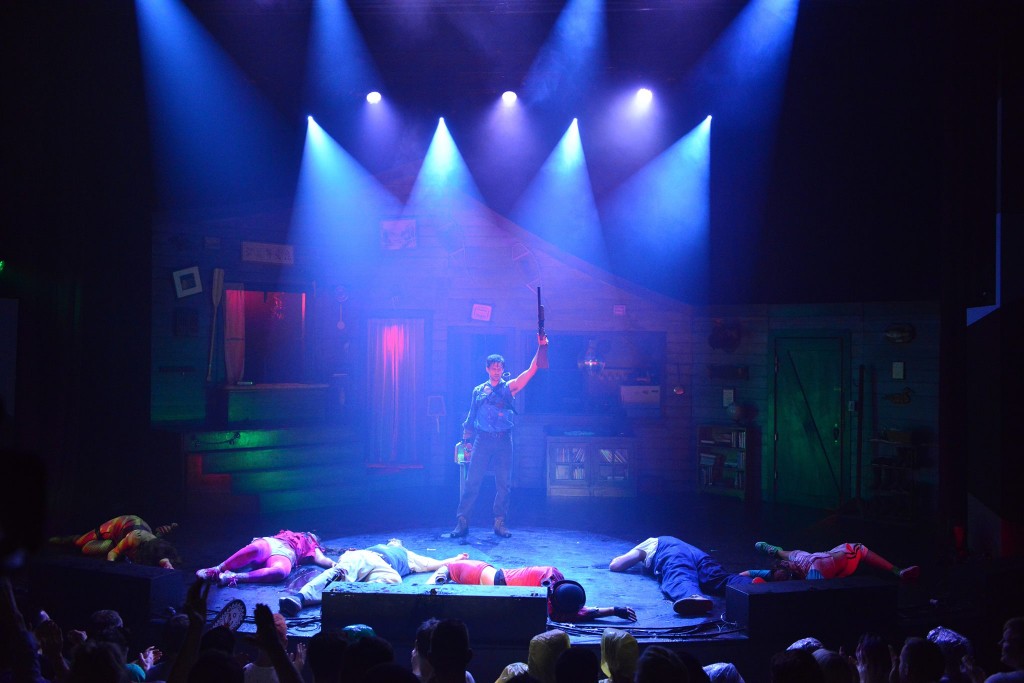 When it wasn't the acting and funny songs of George Reinblatt and co. pulling you in, it was Gareth Crew's incredible light show, Michael Laird's sound effects, Lindsay Anne Black's set design and Scott Patterson and crew's props and fountains of blood that made the performance so glorious. This battle and unity between actors and tech worked as well as the story's struggle and harmony between the living and the Deadites.
As the story progressed, Ash's companions started dying off and Mills increasingly became more and more Bruce-like, especially with his facial expressions. I was pleasantly surprised how well he balanced these traits with his own abilities. Around this time, Stacey Renee Maroske's dance numbers reach a pinnacle in a Deadite version of Michael Jackson's 'Thriller' dance. The dance, in turn, reached its peak in a bloodbath of epic proportions, showering the front rows, or the splatter zone. Overall, especially for such a chaotic show, everything from the acting to the tech was directed impressively well. Not only would I be absolutely eager to see this performance in the future, but I'm delightfully intrigued to see what more they have in store for us down the road.
More coverage of stuff from the streets on de'Lunula:
The Weirdest and Bestest Things We Saw at the Southwest Cannabis Expo
Strange Rumblings At The Indie 500
All the Cats from Miami, Arizona
These PHX Comic Con Photos Don't Have Any Cleavage In Them So You Probably Don't Want To Look At Them Sorry
Follow de'Lunula on the Tweet Machine and the Book of Faces.
---
Spread. Infect. Share.