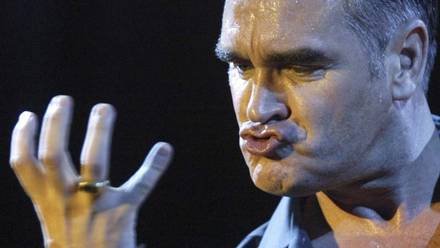 Morrisey, reigning king of mope-rock, has a new record out! To celebrate this glorious occasion, local art-punk provocateur Andy Warpigs has taken the time to record his first impression of each song as he heard them for the first time. These are the unfiltered, spontaneous reactions of a huge fan, fellow musician, and sarcastic asshole.
World Peace Is None Of Your Business is a more layered, daring record than most of Morrissey's solo attempts, but the lyrics and instrumentation at times seem more like what he was doing decades ago in the Smiths. So I guess it's an amazing record. It made me wince, laugh, and cry at times. I think I'm just becoming more Morrissey-esque as I age. I should get my prostate checked.
Let's break down the former Smiths singer into some bite-sized chunks.

"World Peace is None of Your Business."
This is spacey and worldly all at once, I like this very much.
"Neal Cassady Drops Dead"
Is this dubstep?
"I'm Not a Man."
Yeah, being a man is overrated.

"Istanbul"
This is like the soundtrack to the most depressing action movie ever. I'm picturing Dwayne "the Rock" Johnson in heavy mascara right now.

"Earth is The Loneliest Planet."
I'm sure there's a little green Morrissey on Jupiter or Mars saying the same thing about his planet.
"Staircase at the University."
It wouldn't be a Morrissey record if people weren't getting alienated and dying. I bet this song will be huge in Japan. "If you don't get 3 A's," daddy said, "You're no child of mine! As far as I'm concerned you're dead!"
"The Bullfighter Dies"
Good, I hope he got gored in the taint.

"Kiss Me a Lot."
This was recorded in the actual Ballroom of Mars, by Marc Bolan's ghost. Also, THOSE SYNTHS!!! I love them! Why didn't he write this years ago?
"Smiler with Knife"
Fucking sounds like Morrissey's been hanging out with Neil Gaiman. The breakdowns remind me of Andrew Jackson Jihad.
"Kick the Bride Down the Aisle."
That's fucked up.
"Mountjoy":
There's an LL Bean ad on the screen right now showing shitty floral print purses. Morrissey is looking down at it, disapprovingly, and singing about "Human sewage" and "Swagger." Now I'm glad I chose to listen to this on YouTube instead of buying it or downloading it.
"Oboe Concerto"
I bet you anything this was a Cure song. They hate each other. (There is a song I can't stand, and it's stuck in my head)
Deluxe edition bonus tracks! Oh golly!
"Scandinavia":
This is the most metal Morrissey song ever. I wish Pantera were still around to cover it.
"One of Our Own":
Has Morrissey just been siting around watching Breaking Bad for the last five years? "Give me the gun, I love you. A job half Done isn't done…"

"Drag the River"
Goth beach party time! Grab the sunblock, skull candles, and black towels!
"Forgive Someone":
Are we literally talking about a black guy named Pete, or is this some kind of metaphor I don't get?
"Julie in the Weeds":
Synths and Morrissey are a good thing.
"Art-Hounds"
That's why restaurants in America have those big, squishy, comfortable booths. (When they can't find a table for their fat Aunt Mable, they stamp their feet and cry.)
—
Andy Warpigs writes music. Listen to it here.
---
Spread. Infect. Share.