After a brief two-year hiatus, local freaky folk-punk act Andy Warpigs returns with a collection of rare, obscure tracks for the geekiest of geek punx. Complete with songs inspired by break ups, Adult Swim programs, and crippling social anxiety and depression this EP perfectly encapsulates nerdcore life in the 2010's.
Andy Warpigs began as a musical project in 2013, inspired by geek-rock staples like Amanda Palmer, the Magnetic Fields and Nerf Herder. The first few shows were solo acoustic performances at Phoenix Comicon and Jesse James Comics, but they have grown to incorporate more instrumentation and sometimes play out as a full-on punk rock act ala the Ramones or Iggy and the Stooges. Opening for acts such as Jason Webley, Danielle Ate The Sandwich, Okilly Dokilly and Peelander-z, The band has cemented it's nerd credentials and looks forward to a bright future of playing weird, brainy music.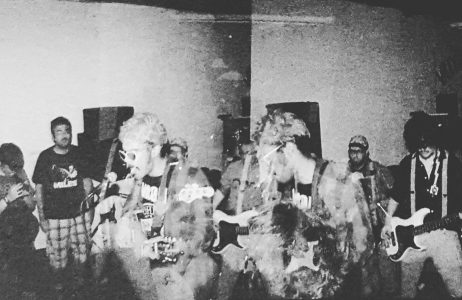 de'Lunula produced two music videos for Andy Warpigs: "Coke N Smokes" and "Chili Pepper."
More bizarre music from de'Lunula:
Tangerine Dreams: The DanDan Noodles dish on their new record, Glendale and Jivemind experiment and grow.
Wolf Eyes – "UNDERTAKERS PT.2"
Watch Gorky's Super Weird, 'Flintstones'-Themed Music Video for "Super Drunk"
Fresh Snow – 'Don't Fuck a Gift Horse in the Mouth'
Andy Warpigs — "Coke N Smokes" Video Premiere
Follow de'Lunula on the Tweet Machine and the Book of Faces.
---
Spread. Infect. Share.