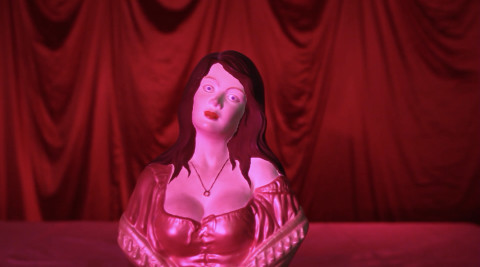 de'Lunula Media is proud to present our latest music video, featuring psychedelic disco heads, cross-dressers reading poetry backwards, and telephones. It's for "New York Drugstore" by a really awesome band (we might be biased) called No Volcano.
No Volcano rides the thin line between dark post-punk and melodic pop rock with a mellow nod toward '70s rock via Lou Reed or Joy Division. Their debut album, Who Saved The Party, is set for release winter 2015. The video for their standout track, "New York Drugstore," was directed by Troy Farah and stars local visual artist Daniel Funkhouser dressed as a mysterious woman making late-night phonecalls. The gritty, psychedelic feel illustrates the moody dichotomy of the band.
Although forming in spring 2013, Chris Kennedy (drums) and Jim Andreas (guitar/vocals) have been playing together in bands since the mid-'90s, most notably in Trunk Federation, a band signed to Alias Records, home of Archers of Loaf, Yo La Tengo, Small and Knapsack. The band also features Jeremy Randall (guitar/keys) of Colorstore and Jake Sevier (bass).
The video was featured on Echo Cloud as their "Video of the Week."
Watch below.