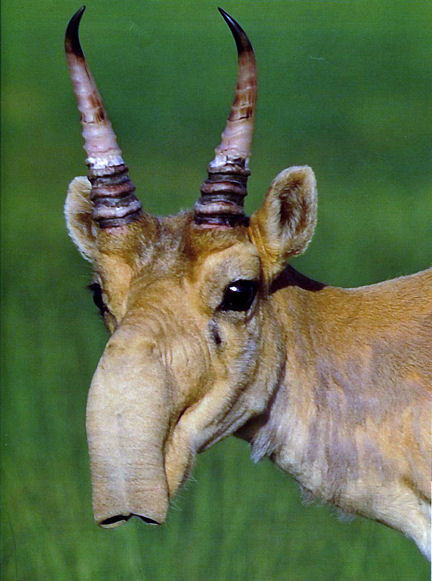 (via.)
Look at the hideous penis nose on this thing. It's called a Saiga antelope and recently, 'Almost half of the world's saiga antelopes (example pictured), a critically endangered species, died in May from suspected pasteurellosis.' (via Wikipedia)
Reading more about this taught me the word 'epizootic' which is like the animal version of epidemic. I love having to spell that word and feeling it in my mouth. Epi. Zoo. Tick. It feels so good to say.
It's one of those words that I think I might have known before, but I destroyed those memory cells by drinking too much so I get to relearn it, just like in that movie about the boy whose memory resets every morning. At least, I think that was a movie.
Anewhey, back to pasteurellosis. 'Herd fatality is 100% once infected, with an estimated 40% of the species' total population already dead. More than 120,000 carcasses had been found as of late May, while the estimated total population was only 250,000.'
What is pasteurellosis? Why, it's a sort of like pneumonia in this case. so imagine ol' weiner nose here drooling snot everywhere. Just gallons and gallons of snot dripping all over, everywhere, it won't stop, it just keeps frothing and drooling and collecting dirt and it's the red-green-orange kind of phlegm just discharging and ejecting from the Willy Nostrils.
This whole scenario makes me incredibly sad. I really hope the Saggy-Dick-Faced antelope doesn't go extinct.
Read more tomes from the WikiHole:
WTF Is A Hell Pig?
How to prevent misunderstanding while communicating when stressed[edit]
Get Traumatized Learning About Traumatic Insemination!
Follow de'Lunula on the Tweet Machine and the Book of Faces.
---
Spread. Infect. Share.