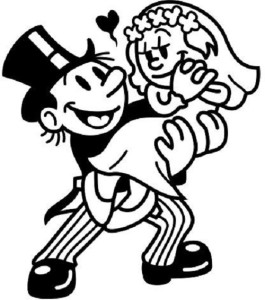 ADAM & EVE
Fuck to forget their
knowledge of good and evil.
Their kids keep fighting.
HELOISE & ABELARD
A monk and a nun
touch God on nights spent alone
reminiscing sins
PARIS & HELEN OF TROY
Eloping romance
destroys Troy and kills millions.
Talk about awkward!
MARK ANTONY & CLEOPATRA
Greece and Egypt love
our sides filled with snake and sword.
Aren't we scandalous?
KING HENRY VIII & CATHERINE OF ARAGON & ANNE BOLEYN & JANE SEYMOUR & ANNE OF CLEVES & KATHRYN HOWARD & KATHERINE PARR
Blasphemous divorce
looming, impotent King starts
taking heads for sons
ROMEO & JULIET
Crazy teenagers
have perfect relationships
for tragic endings
NAPOLEON & JOSEPHINE BONAPARTE
Cuckold and childless
the ex-Emperor sends her
exiled love letters
QUEEN VICTORIA & PRINCE ALBERT
Twenty years of tears
not for losing her kingdom
but sick without him
MARIE & PIERRE CURIE
Uranium rays
get me hot, but I wish we
had used protection
BETTY & BARNEY HILL
Aliens abduct
couples to probe them for love:
the final frontier
BILL & HILLARY CLINTON
I had relations
with that politician, but
nothing too kinky
BRAD PITT & ANGELINA JOLIE
We made a family
adopting kids with weird names
for paparazzi
YOURS & MINE
Were there, now we're here,
something past is something else—
whatever's clever
---
Eli Stubbs is a
writer who spends his spare time
counting syllables
---
We want to read your poetry and fiction. Send it to us at [email protected]
More by Eli Stubbs:
Complicated Books Summarized in Haiku Form
How to Shit Music When You Can't Fart a Note
Kommune 1, Apartment 81 and Communism as a Punchline [NSFW]
More poetry and lit from de'Lunula
Ten Poems by Katharine Cook
Seven Digital Poems by Zachary Larson
'Tried to spit in the soul, only got the face' — 26 Poetic Russian SPAM Tweets
Follow de'Lunula on the Tweet Machine and the Book of Faces.
---
Spread. Infect. Share.